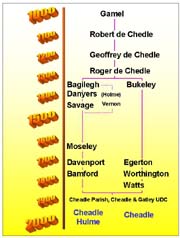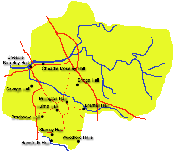 Stopford's 1800 Map
1540-1700
During this period the lordship and manor of Chedell Holme passed to John Savage 8th who was Mayor of Chester (died 1597), John Savage 9th (High Sheriff of Cheshire in 1607) and his second son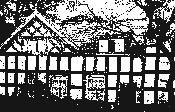 Cheadle Savage Hall
Thomas Savage (John Savage 10th died as a boy), created Viscount Savage by Charles 1 (1626) who died in 1635, and then to his daughter Joan (married to John Paulet, Marquess of Winchester). She died in childbirth aged 23, ending 250 years of the Savages lordship, and the manor passed to the Marquess (a catholic). After confiscation in 1643 it was purchased by the Moseley family and became Cheadle Moseley. (The family line ran from Sir Nicholas Moseley, Rowland Moseley, Sir Edward Moseley [died 1660], cousin Sir Edward Moseley, to Anne Moseley [died 1734]).
Regionally, much land was being sold off to tenants during this period. For example, Bradshaw Hall estate was now owned by the Kelsall family (bought from the lord of Cheadle Moseley in 1550) and passed on to the Prescots in 1817. By 1671 Cheadle parish had 21 freeholders and enclosed fields were now becoming the norm. Handforth Hall was also established in the mid 1500s for the Brereton family and is still standing.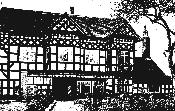 Handforth Hall
Industry
Manufacture and trade, especially textiles (wool, and later cotton and silk), became important in the Stockport Borough in the 15th & 16th centuries, to be followed by hatting. By 1780 Stockport had clearly seen the effects of the industrial revolution, a water-powered silk mill had even been built as far afield as Cheadle (1771). Home weaving was probably Cheadle Hulme's first industry (with 5 spinning jennies, and possibly carding engines, recorded here in 1777 in one of the larger works) whereas finishing mills began to appear in other parts of the region. Even coal mines appeared just a few miles south at Poynton. In Cheadle Hulme, tenant farmers occupied humble dwellings and often kept their own horse and a cow. They would often sell produce at Stockport. In 1672 Macclesfield market included stallholders from Cheadle Hulme.
Earnings were around 3d per day for a labourer, 6d for a ploughman, and about £1 for a large landowner.

Population Increases
Despite a number of famines and plagues in the 1580-1670 period, the populations of Stockport (308 households or 1400 people in 1664), Stockport area (3500) and Manchester (4000) had risen significantly. In the same period the population of Cheadle and Prestbury had tripled.
Buildings
Many manorial halls were extensively altered or rebuilt during this period becoming rather decorative externally (eg Bramall Hall). Moreover, a number of large houses/ halls were built by the wealthier freeholders, for example Stanley Hall (1662) in Stanley Green (bought by the Society of friends in 1786, extant),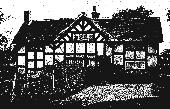 Stanley Hall
and Cheadle Moseley Hall (1666) or Moseley Old Hall (restored 1926, extant) close to Cheadle Green (off Cuthbert Street).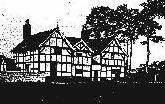 Cheadle Moseley Hall
Even Brick buildings began to appear, Woodford New Hall (1630, extant), Adswood hall (1659), and Millington Hall (1683).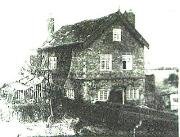 Millington Hall
A number of farmhouses and yeoman houses were also constructed and some still survive. The Savages (lords of the manor) may have lived at the Brookside Farm area which lay just west of Wilmslow Road about a mile south of Cheadle village centre (until it was replaced by houses in the 1930s). Cheadle Savage Hall probably lay close to School's Hill. It was sold to William Fowden in 1762 for £32. Cheadle Bukeley Hall was near Cheadle parish church (close to Massie Street).
Society
Legal systems were based around the manor courts (barons & leets), parishes and townships, and county justices. 'Poor laws' providing work and assistance for the unemployed and sick, and charitable donations from the wealthy helped form a community spirit. However, the Civil Wars of 1642, 1648, and 1649 embroiled the Stockport and Manchester areas with the taking of sides for King or Parliament. Notable local figures in the wars included Brereton (Handforth Hall), Humphrey Bulkeley (Cheadle Bulkeley), Siddall (Bramhall yeoman). Bramall Hall also featured in the local turbulence and troops often stayed there. In 1643 general taxation was introduced and a number of manors were sequestered (including Cheadle Moseley) or their owners fined because landlords had taken sides with the King.
1700-1840
The last Moseley of the half-manor (she inherited in 1695) was Anne (married to Sir John Bland in 1695, who along with his son John squandered the estate). Lady Ann Bland who was responsible for the building of St Anne's church in Manchester died in 1734. The estate was then sold under an Act of Parliament in 1754 and purchased by John Davenport (brother of William - of Bramhall) who left it to the Bamfords upon his death in 1760. In 1806 the estate passed to Robert Hesketh (who became Robert Hesketh Bamford Hesketh), who died in 1894 and on to his (?grand-) daughter Winifred, Countess of Dundonald, and eventually it was reunited with Cheadle when the Civil Parish was formed in May 1877. An important site at this time was the Horse & Jockey Inn which later became replaced by the Hesketh Arms Hotel. Few major buildings were constructed in the area in this century, an exception being Cheadle Hall (1756) in Cheadle Bulkeley built by the rector and sold to John Harris in 1773. (By 1810, Cheadle manor was owned by John Worthington.)
The Hamlets
Rather than being centred around a parish church Cheadle Hulme at this time was based around a number of separate hamlets (Lane End [several cottages and three farms near to Millington Hall], Smithy Green, Gill Bent, Grove Lane, Hulme Hall [a manor house, Old Cottage and a market square]) with intervening common land and farm land.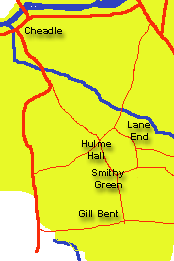 The farm lands included Orish Mere Farm, Hill Top Farm, and Hursthead Farm [described by Fletcher Moss as a very bleak and lonely place with no roads]. Indeed, Burdett's 1777 Cheshire map shows only 18 buildings (including The Pump) in Cheadle Hulme, mostly in the Swann Lane area. Stopford's 1800 map showed hardly any difference. However, land enclosures were now becoming the norm in the area (Hulme Common, where the war memorial is now, was enclosed in 1810) and fertilisers (lime, bone meal) were being used.
In addition to farming, cottage industry loom shops for silk-weaving were becoming important in the area, (silk-weavers comprising a large part of the population in 1826) and lasted into the next century.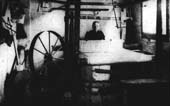 Small rows of brick cottages began to appear. Many locals travelled over 8 miles on foot to the Macclesfield silk factories to exchange their goods. John burrows was a manufacturer of check gingham in 1833 and calico in 1850. The big change - the railways was yet to come. However, the region was still described in 1890 as 'beautiful lonely country'. From the 1830s until1879 the area was governed locally by the Select Vestry, an ecclesiastical institution.
Continued below:-
Stockport - population, cotton
Transport - canals, roads, 1745
Religion & Society population, cotton
Transport - canals, roads, 1745
Religion & Society