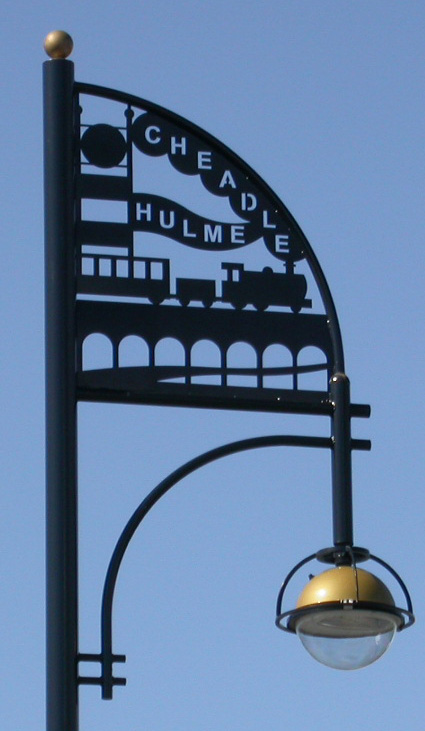 Cheadle Hulme's 4 main themes combined.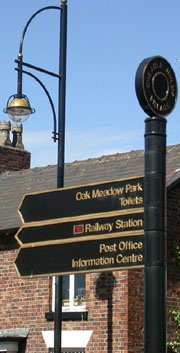 Elegant Street Furniture

Precinct Entrance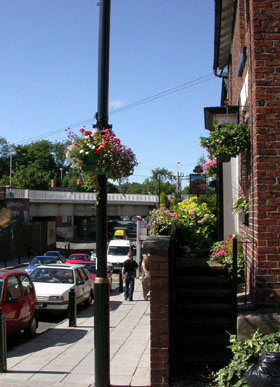 Summer Baskets 2005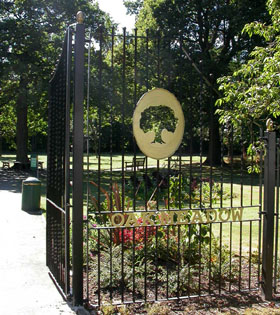 Oak Meadows Gates
3rd Millennium
As ever, Cheadle Hulme continues to evolve. Over the decade of the new millennium it has increased in density with ever abundant fill-in housing plots, the replacement of petrol stations with flats or Tesco Express, yhe arrival of numerous new restaurants, the refurbishment of bus stops with new stands and high kerbs to help the disabled, more traffic lights, a lot more red paint on the roads, elegant black and gold street furniture in the village centre, Christmas lights and Oak Meadow receiving a makeover - much of the latter three items thanks to the Cheadle Hulme Partnership activities. Broadband (high speed) internet is ubiquitous - just as well since travel by rail, car or foot has become intermittent (closures for repair), slow (too much traffic whilst awaiting finishing of the MAELR route), or simply dangerous.
The area has enjoyed recent summer heatwaves alternating with downpours and the locals have celebrated a Jubilee and a World Cup. The police station has closed and become a block of flats, the post sorting office became a pub, and rumours abounded regarding the loss of the former Woods Lane Secondary School but that development has stopped due to an old clause in the deeds of the land. And, of course, we still await the refurbishment of the railway station and bridges! However, the area is still relatively green, prosperous (rocketing house prices) and desirable suburbia. The Conservation Area has also been expanded (Link, Link)
To take note of increased internet speeds pictures are now larger and with better resolution and many can be clicked on to give even larger full screen images. happy viewing!
| | |
| --- | --- |
| | Station Road with rebuilt Millington Hall (John Millington Pub) and moved and rebuilt Daisies florist. |
| | Millington Hall / John Millington Pub |
| | Daisies florist (2005 version). |
| | Station Road south side with Blockbuster video and Tesco Express where the BP Petrol Station used to be. |
| | The Cheadle Hulme next to the railway station has also had a makeover. |
| | Shopping precinct. |
| | The 157 bus to Manchester outside Whittakers Chippy next to the advice centre - a bunch of things that haven't changed in 30 years! (Well except for the price of fish and chips). |
| | Station roads shops are now mainly building societies ad solicitors. |
| | View of above from Oak Meadow. |
| | Oak Meadow newly refurbished a haven opposite the shops above. |
| | View along Station Road towards the extinct police station. |
| | The jungle of traffic lights at the Station Road / Queens Road / Albert Road end of Cheadle Hulme produce many a good traffic queue. |
| | Church Road shops with Wings Chinese restaurant, Busy Bee Newsagent, Crissan dresses and of course the ever reliable Snapes Ironmongers. |