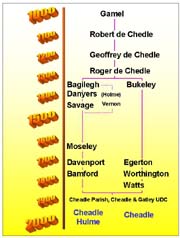 Effect of the Railways
In 1840 Cheadle Hulme was a quiet backwater largely bypassed by the roads from Cheadle and Stockport which linked up with Manchester in the north or Wilmslow and Macclesfield and the further south. It had a shop or two, farmhouses and farmland, a few houses and Hulme and Millington Halls.

In 1842 the Manchester- Stockport line was extended to Crewe via Cheadle Hulme, crossing the Ladybrook as the Seven Arches brick viaduct. A station (originally called Cheadle) was constructed facing the Hesketh Inn site (at the time 'The Horse & Jockey') and opened on May 10th 1842 (some sources suggest 1840 as the line's temporary terminus).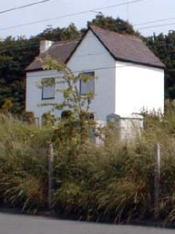 Original 'Cheadle' Station in 1999
A branch to Macclesfield (via Bramhall) was added in 1845 and opened on June 9th to Poynton and November 24th to Macclesfield (a cheaper option than the originally proposed Stockport -Macclesfield route) thus necessitating moving the station to Cheadle Hulme junction about half a mile east to what is now the 'village centre'. (The original station closed on November 24th 1845 but the building remains as a white house visible from Heathbank Road.) The new station was renamed Cheadle Hulme on March 1st 1866. The two lines are extant today and the two bridges across the narrow Station Road are shown in 'Maps & Pictures'. The new line also crossed land belonging to Hill Top House and a high wall was erected around it. The railways and station were the beginning of the great changes which turned Cheadle Hulme from a rural farming community into a major residential development of Manchester and Stockport. However, in the mid 1800s there were still around 36 farms in Cheadle Hulme. Other employment included silk weaving (580 registered silk weavers in the 1851 Cheadle census), 3 brickworks (on the current Fire Station site on Turves Rd, near the Railway Station, and in Adswood). Lord Vernon distributed his coal from Poynton Collieries via Cheadle Hulme and had a coalyard opposite the station. Shops were mainly in the form of traders carts from Stockport selling food, textiles and housewares but by the middle of the century the first village shop (Adamson's Grocers) was opened in the Smithy Green area. It sold groceries, provisions, sweets and drapery. The population expanded as Victorian houses were built by city businessmen ('the gentry') at Swann Lane, Cheadle Road, Station Road, Albert Road, and Heathbank Road). These houses also provided service employment for local people. The 1882 map clearly shows the 'old circuit' (Hulme Hall Road, Swann Lane, Church Lane) almost fully populated with houses.
Famous Visitor
In 1857 Prince Albert disembarked at Cheadle Hulme station and travelled via Stockport Road (now Albert Road) to Cheadle and Abney hall visiting the Great Exhibition in Manchester.
Conversely, Cheadle's railway developments were less successful resulting in line closures and eventually conversion of the station into a pub! It did not, however, escape the encroachment of horse-drawn buses, trams and motor cars to-ing and frowing to Manchester and Stockport. In 1852 a Literary Institute (fostering science and art) was established in Cheadle which became a Library and Reading Room in 1875.
Housing - 'Villadom'
From 1850-1930 large detached and semi-detached houses or 'villas' were built to house the wealthier trades people who commuted to work by train and later motor-car. Cheadle Hulme was one of the first places to see this influx and was described in 1864 as 'rapidly improving, containing some handsome, suburban residences'. In 1877 the whole of the neighbouring Davenport Bramhall Estate was bought by property speculators and too expanded eventually necessitating a new road from Cheadle Hulme to Bramhall through Carr's wood (mainly bog, brushwood and bluebells!) in the 1880s. This is now Manor Road/ Carrwood Road). In 1884, however, the area was said to be somewhat socially desolate, lacked amenities, and was remote (Letter to the Stockport Advertiser, June 6th). Similarly the Pownall land passed into housing development as the century wore on.
Effects of motor cars
Motor transport increased the spread of suburbia particularly in the 1920s and 1930s and especially in Cheadle, Cheadle Hulme, Gatley and Heald Green where the population increased from 11,000 in 1921 to 27,000 in 1939. Many of the residents migrated from Manchester.
Other Changes
1844 Tithe map shows railway station still at the original site. Most of the fields were owned by William Cash, Sarah Fildes, William Bayley, Samuel Hulme, widow Leah, John Bancroft, Joseph Leather, John Burgess, John Hooley, James Spence, and Thomas Higham.

1850 Cheadle Royal Hospital constructed. Gas became available. Cheadle Hulme Common Road became Mayfield Grove and Lane End Road and then became Station Road.

1851 Census data (Reid, 1979) shows that the punishments for crimes in the area were - stealing turnips (1 month prison), house breaking (4 months hard labour), and in one case, setting fire to a haystack (transportation for life). The stocks were abolished in 1841, although a set may still be observed outside Bramall Hall. The most common christian names in the Cheadle and Cheadle Hulme region were John (583), James (348), Thomas (306) and Mary (461), Sarah (361) and Elizabeth (334). There were 22 parliamentary voters in Cheadle Hulme at the time.

1881 The turnpike tollgates were removed.

1882 Morris & Co Gazetteer of Cheshire states that - "Cheadle Hulme is an outlying district and - its (population) is rapidly increasing, many new villa residences having sprung up of late years - 992 inhabitants are listed as living here. Manor Road (to Bramhall) did not yet exist.

1890 Electricity became available but did not expand into most of the area until the 1920s and1930s. Ravenoak Lane established with a shopping terrace including Hazeldine's (builders, and hardware shop).

1894 (Fletcher Moss records the local natural history and comments) ".. by the bridle path from the swampy land at Gill Bent, past Bradshaw Hall and Windy Arbour; there are only two houses in two miles of fields." (This concerns a walk along old footpaths from Stanley Road to Schools Hill which are just about still in existence and can be enjoyed on a fine summer's day - MM)

Moss also writes:-


"Cats are always increasing, and are most cruel; the eager manner in which they listen and look for young birds in the evening or early morning..." (... and their attitude to mice - MM).

1898 Hilltop Avenue first appears on map as a cut through from Church lane to Swann Lane. 1906 - 4 residents,1910 - 35 residents, 1914 almost fully built.
1899 - Cheadle Hulme telephone exchange opens with 14 subscribers. 1908 two coin operated kiosks appear. The telephone exchange was updated in 1927 (357 lines), 1932 (874 telephones) and 1964 (4316 telephones, called Hulme Hall). By 1976 there were 10,000 phones attached.
1903-4 The first tarmac was laid in the area - on Station Road near Bellfield Avenue through to Beech Road - this came to be called the Promenade. Horse drawn carriages were frequently seen parked in the area awaiting station passengers.
1905 a footbridge is clearly evident crossing both railway lines. This remained until the 1960s. Also a local coal wharf was established at the current site of the National Westminster Bank. Coal was usually collected by hand. Water was still commonly carried from the Ladybrook or a well at Holly Bank Court (Swann lane) by hand.
1911 OS map shows Hill Top Avenue with about 6 houses at the Church Lane end opposite the Church and a similar number at the hill top end. Swann Grove appeared to exist but not Upton or Hulme Hall avenues.
1912 Police Station built facing Hulme Common.
1919 Celebration of the end of the First World War with a Field Day at the corner of Woods Lane and Church Road with sports and fireworks. War memorial constructed at the junction of Ravenoak Road / Manor Road.
1920 Cenotaph officially 'opened'. Nearby, park gates across Manor Road until 1950s.
1920s & 1930s massive influx of people from Manchester producing a 100% population increase in about 30 years. The area became popular for excursions, ramblers, and cyclists. Some farms even provided refreshments and wooden chalets for the 'tourists'. Milk was still delivered from local farms by horsedrawn floats (one of which was still seen in the 1980s).
1929 Free library established in Mellor Road area. The old tuck shop on Hulme Hall Road was originally a fire station.
Local Government
The manorial period was now ending and local government changes and amalgamations were prolific.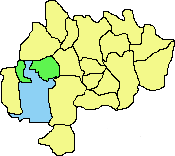 'Stockport Townships' showing Cheadle Moseley
Cheadle Bulkeley
In 1864 the Lord of the manor was William Bamford Hesketh who passed on the estates of Cheadle Moseley, Cheadle Hulme, Gatley Hall, and lands in Etchells and Disdbury to his only child Winifred, Countess of Dundonald upon his death on April 29th 1894. In 1868 Cheadle Hulme became a parish and both Cheadle and Cheadle Hulme were reunited (after 553 years) as part of the same parish in 1877-9. In 1894 Cheadle and Gatley became an Urban District. In 1886 this consisted of 5829 acres, a population of 8252, and a rateable value of £58,305. In 1889 Stockport became a County Borough (1892) which engulfed parts of the urban districts in 1901. Attempted control of the Cheadle & Gatley Urban District by Stockport and Manchester was fiercely fought off in 1934 and it remained independent. In 1974 - the whole area was re-united as the Metropolitan Borough of Stockport.
Neighbouring Areas
In Stockport, a Technical School was opened in 1889, an imposing Town Hall was built in 1908, and industry changed from cotton to engineering (including aeroplanes at Woodford about 2 miles south of Cheadle Hulme) and eventually diversified into offices, retail, light industry and commerce. The town centre had other fine new buildings including a tram and fire station and several bridges over the still uncovered River Mersey.
1847 - Abney hall was constructed in Cheadle by Orrell & Watts on the site of Cheadle Grove print works. It played host to Disraeli, Gladstone (1862), Prince Albert (1857), and Agatha Christie. It also became the Cheadle & Gatley Town Hall in 1959 to replace Bruntwood Hall (built 1861, which previously acted as town hall 1944-1959).
1925 Bramall Hall purchased from Nevill by John Davies (President of MUFC).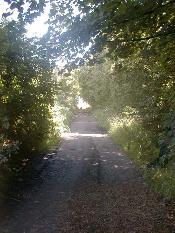 Fletcher Moss's Path
When?
Rail fares from
Cheadle Hulme-Manchester were £4 for first class, and £3 for second class - per quarter. Cheadle Hulme-Stockport were £2 and £1 respectively.
Coach fares were 2/6d via horse drawn tram in 1854 from Cheadle to the Palatine terminus