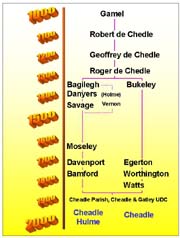 500-1100 AD
Anglo-Saxon Period
Cheadle Hulme did not exist as an entity in this period but its environs lay close to the border (the Mersey) of the northern kingdom of Northumbria and the midland Mercia. The Old English place name Cheadle refers to 'ced' a 'wood' as does 'leah' ('clearing in a wood') and may have been used since the 7th century.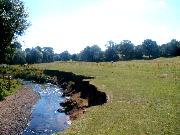 Most of the land at this time was woodland, mainly common oak and was on the edge of the extensive Macclesfield Forest. Certainly Cheadle was an important settlement and is mentioned in the Domesday Book (1086), as is Bramhall (the shrub broom, in a small valley or 'halh', - the Lady Brook). Scandinavian (Viking) influence in the 9th century may have introduced Danish field names such as 'hulm' meaning 'island in the fen' or 'water meadow' to be used later in Cheadle Hulme (an alternative translation for hulme is 'island in the fen'). The area became part of the newly formed Cheshire in the 10th century.
An Anglo-Saxon stone cross (10th century) found at the Barnes Hospital site near Cheadle in the 1870s suggests this was the centre of a parish. Initially, worship may have occurred in the field on the mound known as St Chad's hill. The cross is now located in the parish church of St Mary.
St Chad a prominent 7th century cleric and bishop of the Mercian diocese of Lichfield (669-672) may also have had an influence on the parish name. Alternative names for the village include Cedde, Chedde, Cheadda, Chedyll, Chedley, Chedhill, Chedell, Chedill, Chedle.
The Anglo-Saxon lord in 1066 was the father of Gamel who held the manor in 1086 (under the Norman lord Hugh the Wolf - a nephew of William the Conqueror). As with much of this area of Cheshire the manors were very small, each having less than 10 inhabitants.
1100-1540
Norman/Medieval Periods
Normans took over the Northwest around 1070 and most manors were ruled by Norman overlords.

The Domesday Book records Cedde (Cheadle) and Bramale (Bramhall) as manors, valued at 10 shillings and 5 shillings respectively, within the Macclesfield Hundred which predate even the larger town of Stockport. Only 10 individuals are listed as living in Cedde in 1086, although this probably refers to households. The area was about 3 miles long and half a mile wide and included woods, and an enclosed area for deer and hawks.
Land was slowly brought under the plough, thus agriculture and the population increased. As the number of manors increased, a local textile trade began, and cornmills arose along the rivers, Stockport itself developed as a market town. For most of the millennium Cheshire became famous for its dairy produce (cheese and milk).
1162 - Robert de Chedle (Dutton family) was manorial lord, answerable to the Earl of Chester under Hugh Kerelioc.
1185 - by this time there are clear references to two cornmills at Cheadle (Higher and Lower on Micker Brook). A wooden church probably occupied the site of the present parish church.
1248 - Cheadle and Bramhall were amongst the few manors not included in the now expanded Stockport barony of Robert de Stokeport II.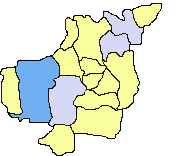 Cheadle Manor [Enlarge]
1260 - Stockport gained a market & borough charter. First mayor in 1296 was William de Baggilegh.
1291 - Handforth (Handford) came into existance.
1294 - Geoffrey de Chedle, who inherited the manor (worth £20 per annum) from Robert de Chedle, died.
13th century clearances of woodland and increased numbers of freeholdings meant the landscape showed irregular enclosed fields. The mosslands were, however, still important sources of peat fuel. Older parts of neighbouring Bramall hall date back to this century.
Key Changes
1321 - Sir Robert (Roger) de Chedle, lord of the manor died leaving no male heirs.

After his wife's (Matilda) death in 1326 the manor of Cheadle (worth £30 per annum at the time) was divided between his two daughters. The younger - Agnes (married to Richard de Bulkelegh) - inherited the northern part, their share became known as Cheadle Bulkeley (the later Cheadle). The estate passed on to Agnes' son William, then his son Richard. Many members of this part of the family were wastrels and got into debt and finally sold off the estate to Rev. Thomas Egerton in 1756 (1775?), sold to John Worthington in 1806, and and Sir James Watts in 1876.
The elder daughter, Clemence (married to William de Bagylegh [or Bagulegh]) inherited the other (southern) half (technically overlord to her sister's share). The manor passed to their daughter Lady Isabel who married Sir Thomas Danyers (distinguished at the battle of Crecy in 1346), and then to their daughter Margaret. Through Clemence's grand-daughter (Margaret Danyers [who had 3 husbands - John Radcliffe, John Savage, and Piers Legh - and lived into her seventies!]) Chedle-Holme* passed to the Savage family (John Savage, Margaret's son was knighted at Agincourt in 1415) and ten successive 'John Savages'. The fourth John Savage acceded in 1463 and married Katherine Stanley (sister of Lord Stanley, 1st earl of Derby). The 5th John Savage (of Savage Hall near School's Hill) commanded part of the Bosworth army (1485) for Henry Tudor (King Henry VII) died in 1492. John Savage 6th died in 1527, John Savage 7th died young. (In the mid 17th century the estate was acquired by the Moseley family and became known as Cheadle Moseley [and later Cheadle Hulme]).
*The situation was more complicated since many manorial parts were interspersed. Also, shortly after partition Cheadle Moseley was divided by creation of a submanor known as Hulme or Chedle Holme held by a branch of the Vernon family until Geoffrey Vernon died in 1476 when it returned to Cheadle Moseley and the Savages. Hulme Hall may have been built during this period (1419?), it was extensively rebuilt and enlarged in 1867.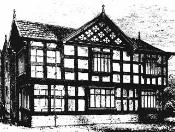 Hulme Hall
Note: The two areas were to be re-united 553 years later (1879) as the civil parish of Cheadle.
1486 - Richard Bulkeley appointed rector of Cheadle.
1523 - St Mary's Cheadle parish Church built under Henry VIIIs reign with a chapel to Sir John Savage, lord of Cheadle Moseley.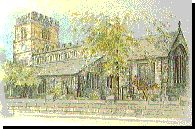 1530- English Reformation. Cheadle Rectory built (demolished 1939, now site of Cheadle Post Office).
1540 - Sheep & cattle rearing in the area, especially in Bramhall by the Davenports. Also great parks developed surrounding some manorial homes and were used for hunting. The great halls of Stockport included Bramall, Bridge (Adswood), Bradshaw (1380), Cheadle Bulkeley, Old Manor (Marple), Woodford Old Hall, Reddish, Norbury, Bredbury, and Peel Moat.